In the first book of the Read with Meaning series, Mezba Mahtab employs his celebrated technique of using Legos to tell stories from the Qur'an. This book conveys the story of Chapter 18, entitled "The Cave" (known as Surah Al-Kahf). Mahtab's creative spin on Qur'anic storytelling is bound to spark the imaginations of Muslim children and adults alike, and is very effective in driving home the lessons of this Surah.
Before diving into the content of Surah Al-Kahf, the book introduces us to a religious gathering where a lecturer—presumably, the imam of the mosque—is describing the circumstances behind the revelation of this chapter. Many of the chapters in the Qur'an emerge from a specific situation that arose in Prophet Muhammad's (peace be upon him) life. Surah Al-Kahf, the imam tells us, came as an answer to a few questions posed by two men to ascertain whether Muhammad is indeed a Prophet.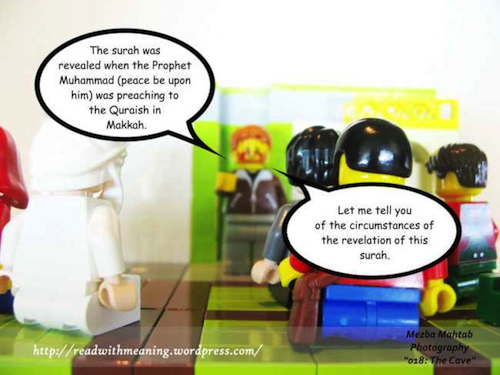 By means of
Surah Al-Kahf
, the Prophet Muhammad was able to address some of these questions, thereby proving (according to Islamic teachings) that he was indeed a "true" Prophet.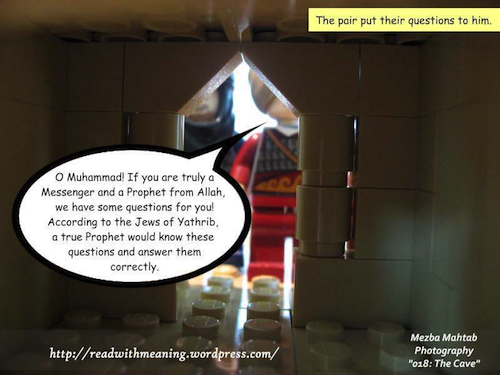 Then, the four stories in
Surah Al-Kahf
are relayed in detail. We are told of the men in the cave, whom the story is named after: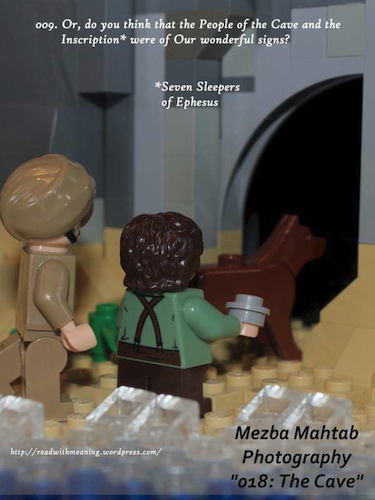 It is followed by the story of the two successful men who have drastically different attitudes about their wealth: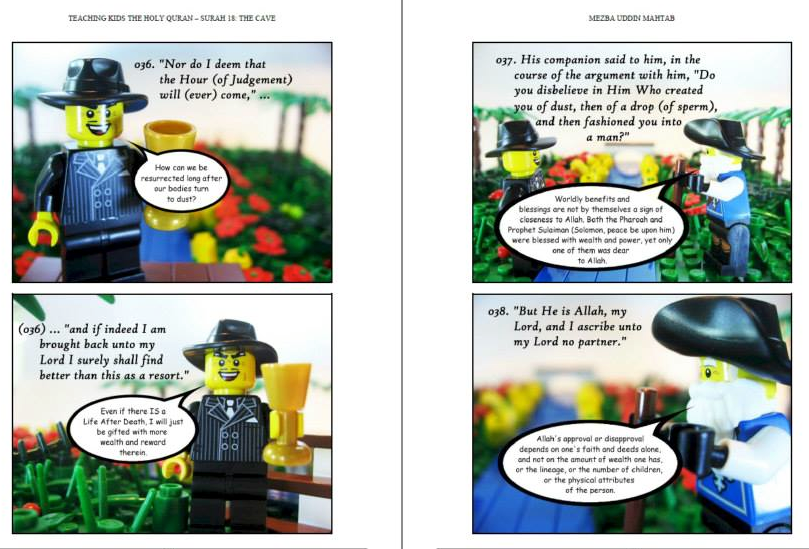 This is followed by the story of Prophet Moses and the wise man who repeatedly tells Moses to trust his wisdom, for he knows things Moses does not know.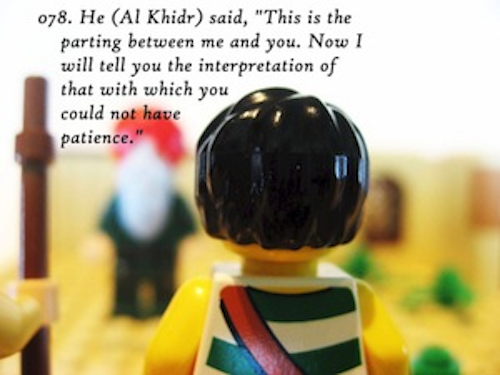 " />
Finally, we are told the story of Dhul-Qurnain, who traveled a great distance and built a wall to seal away the Yajuj and Majuj.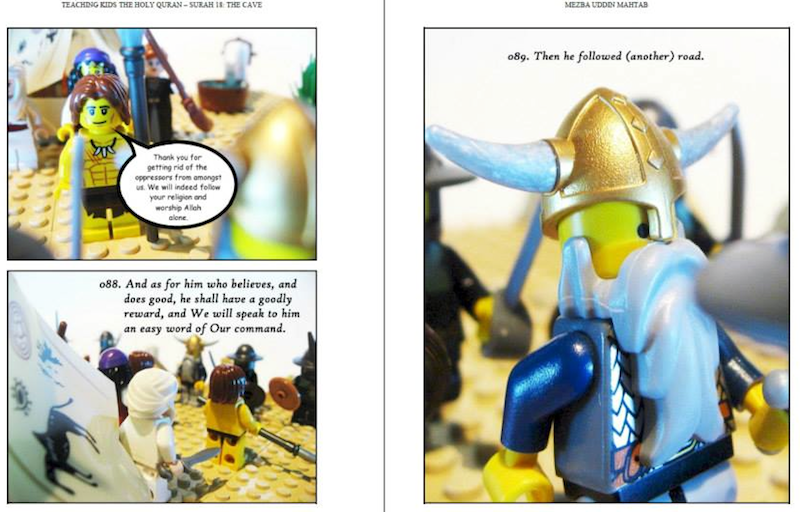 When the narration of
Surah Al-Kahf
itself ends, we return to the imam in the masjid, who reminds us of the Surah's lessons.
Going through this book was a delight. I had already viewed a few projects like these on the Read With Meaning website. Although you can find a version of Surah Al-Kahf already on the site, it should be noted that there are additional images and enhancements in the book that are not available in the online version. More importantly, going through the stories in digital format is not at all the same asturning the pages of a hardcopy. I am an advocate of digital books, but I must take exception to rich forms of narration like these, which are best read in their printed form.
In describing his approach to this project, Mahtab notes that children tend to be taught to read the Qur'an before understanding it. He adds that "It's hard to get kids to read, so with a visual aid perhaps they would be more interested in finding out the meaning of the words behind their prayers." As for older audience, he hopes that visually representing God's words would help Muslims "seeing what [they] hold holy in a better light."
Through this book, Mahtab was successful in executing his vision. Whether or not one is already familiar with Surah Al-Kahf, there is nothing quite like the experience of seeing these oft-repeated and deeply profound stories brought to life. The use of Legos as a medium is a particularly meaningful one to me. Although the figures used in the story represent a vast range of characters, their core features are the same recognizable yellow, block-shaped forms many of us fondly remember from our childhoods. To me, this abstraction alludes to the limits of the human imagination. It also pays respect to the fact that we can never "truly" interpret the meaning of Qur'anic verses in their entirety.
There are some matters, however, that should be taken into consideration when reading this book to children. Due to historical context of Surah Al-Kahf ,as well as its abiding lessons on trusting in God's plan and humility versus arrogance, its multi-layered approach may be overwhelming for younger listeners. The book starts with a lecture in a mosque, moves on to the two men who questioned the Prophet Muhammad, and then to the Surah itself, a process that may lose younger readers. For such an audience, it may be best to skip ahead to the central stories of Surah Al-Kahf itself.
This book goes through Surah Al-Kahf verse by verse, from beginning to end. The four central stories are interspersed with verses containing more general reflections. Since Mahtab is depicting each verse with a set of Legos, this results in the need to use entirely different scenes.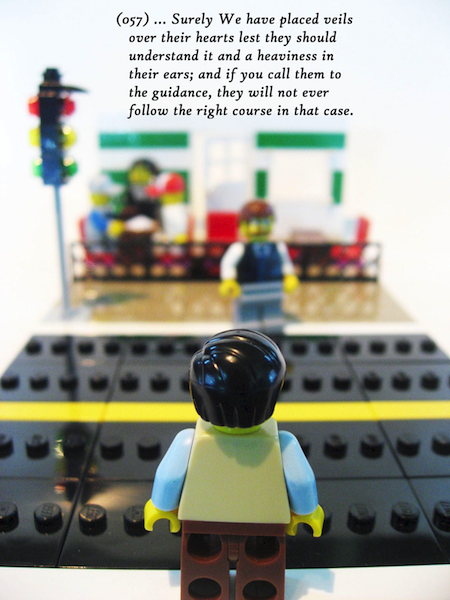 Although the intention of behind these deviations is to stay true to the meaning of the verses, they could be distracting to children. For adults like myself, they also disrupt the flow of the story. Perhaps a better approach could have been to simply let the verses remain without any depictions.
Furthermore, I was uncomfortable with the equating of people sitting in a restaurant to idlers who are wasting their time on this planet. Scenes like this are ubiquitous in the West: why should Muslim children be told that the people in them are "the other"? It is perfectly possible for adult versions of those children to be in those scenes, sans alcohol.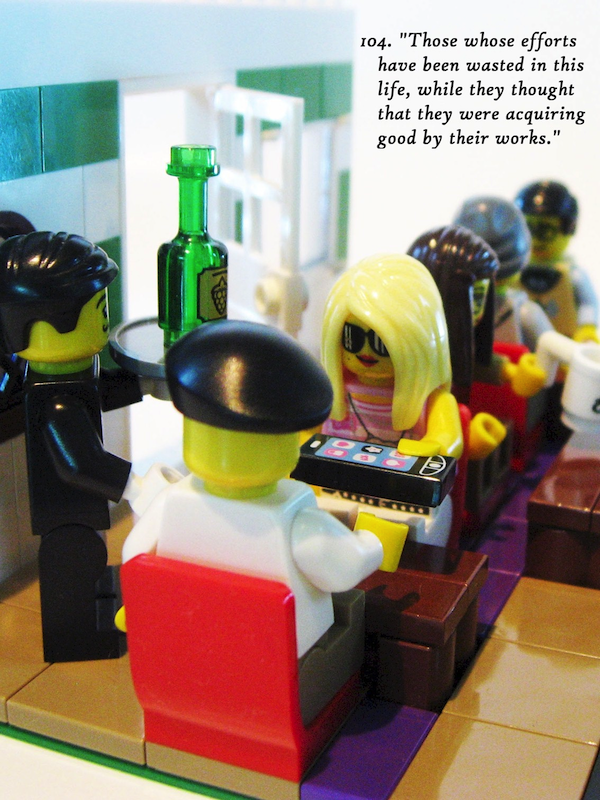 Such considerations aside, I am still thrilled with this creative approach to conveying stories of the Qur'an. I am sure it will transform both children's and adults' reading of it, for the better.
All images were provided by author, or sourced from Read With Meaning. Sarah Farrukh is a Web Editor at altMuslimah.