"The Open Easel" was founded by Toronto artist, Samia Shaheen. Shaheen's work reflects the atmosphere of the eastern and western cities she has lived in and visited. Oil, acrylic and water based media are used to capture the splendour of South Asia's Mughal architecture and Canada's historical monuments and vibrant landscapes.
Having studied under the guidance of renowned South Asian artist Mansoor Rahi, her paintings adhere to the style and tone of the schools of cubism and impressionism.
Some of Shaheen's pieces have been exhibited in Toronto, Islamabad and Lahore and commissioned pieces have found their way into homes and offices across Canada and the U.S.

 How did you begin your career as an artist?
Samia Shaheen: My passion for art has existed from grade school. While working towards a masters in public policy, I still studied art in my spare time. I studied on weekends from the renowned South Asian artist Mansoor Rahi in Islamabad and continued on in Toronto with classes from the Toronto School of Art. Even today, I am pursuing a fine art diploma from Sheridan College.
After exhibiting in galleries in Lahore and Islamabad, I held my first exhibit in Toronto as part of the 2010 Rumi Fest. From there I launched my website and have participated in art shows across Ontario.

 Tell us about your creative process. What inspires you to create a piece?
Samia Shaheen: My work reflects the ambiance of cities that I have lived in and visited. So the urban centers and rural heartlands of three provinces in particular (two in Canada and one in Pakistan) inspire my work: Ontario, Quebec and Punjab.
The architecture of a place is what most fascinates me. I am drawn to historical buildings like Mughal mosques and gothic churches; I love capturing their intricate domes and steeples. I immensely enjoy drawing and painting architecture that defines a particular landscape and its community – in other words, a building that took decades to build and is a place of worship where everyone gathers.
When I travel to new places, I snap photos or sketch an on-the-spot drawing of whatever intrigues me. I then return home and develop the material into colorful cubist paintings. I named my website 'The Open Easel' because I continue to discover all kinds of subjects and all variety of styles—impressionism, actionism, cubism– in which to capture those subjects.

 This is quite a remarkable piece, depicting both South Asian Mughal architecture and an enigmatic female figure. Tell us the story behind this painting.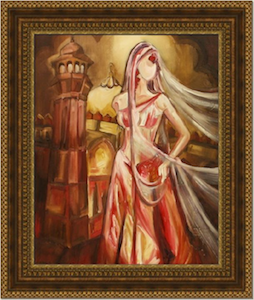 "Waiting 2." Image source:
The Open Easel.
Samia Shaheen:This piece takes inspiration from the red sand stone building of the Mughal mosque named 'Badshahi Masjid' in Lahore, Pakistan. The lady 'in waiting' represents the beauty, mystery and strength of a South Asian female. The world is steadily moving towards equality between the sexes, yet for many women the right to education and equity is a hard earned one. This painting aims to symbolize the beauty and endurance of such females. The mughal architecture in the background signifies the woman's deep roots in her culture and religion, but at the same time she is draped in billowing scarves, looking ahead and 'waiting' for her destiny, her future.

 There is a thorny issue Muslim artists cannot seem avoid: depictions of the human form are taboo. Have you experienced pushback in this regard?
Samia Shaheen:God's most beautiful creation is the human body. My teacher once told me that to draw or paint the human form with joints, muscles and bones is a test of talent for an artist. True Islamic art has always refrained from depicting the human figure for a variety of valid reasons. I often find myself caught between appreciating God's most divine creation and trying not to overstep religious boundaries. For this reason, my figure paintings do not portray any facial features and my subject of focus remains architecture and landscapes.

 On that note, what does "Islamic art" mean to you?
Samia Shaheen: Most people would define traditional Islamic art as the geometric patterns and Arabic calligraphy used to decorate mosques. My interpretation is a bit broader because, as I see it, Islam spread over the ages to all corners of the globe and Muslims from each place infused their art with the flavors of the culture to which they belonged. For example, I believe Islamic art also includes art forms such as miniature paintings from South Asia which depicted scenes from Mughal courts and poetry from mystics like Rumi.

 Please tell us about your most recent portfolio "Escape to Landscapes from Canada."
Samia Shaheen: My collection of 'LandEscapes' depicts the shapes and colors from my rediscovery of Canada's two provinces, Ontario and Quebec. These oil paintings capture the architecture and open landscapes of Quebec City, the historical monuments in the heart of downtown Toronto and the natural beauty of the Thousand Islands, which straddle Canada-U.S. border.

  Your paintings have been featured in exhibits across Toronto, Montreal, and Islamabad. Have your audience's reactions differed across these diverse regions?
Samia Shaheen: An artist's painting must relate to her audience. I've found that my paintings depicting South Asian figures, architecture and landscapes resonate with folks with a South Asian heritage, regardless of the city in which they live. My paintings inspired by the east were more popular at the Rumi Fest. Meanwhile work inspired by the west was more appreciated at venues such as the Grimbsy Festival of Art and Oakwood Public Library. That being said, one of the things I love about living in Toronto is its multiculturalism, so folks here appreciate both eastern and western subject art.

 It is said that creativity is about connecting the seemingly unconnected, and your art is the perfect illustration of this.
Samia Shaheen: Having experienced life in the east and the west, I try to portray both on the canvas. The cubists described art as visual music. I try and capture history in a vibrant and modern way – painting historical architecture and natural landscapes in bold angles and colors.
Scroll through Shaheen's online portfolio, as well as commission customized paintings at The Open Easel. Become a fan of her Facebook page.
Sarah Farrukh is a Web Editor at Altmuslimah.