Ramadan is undoubtedly the most special time of year for Muslims around the world. Even more so for Muslims in America because we grow up surrounded by a plethora of religious holidays but without one of our own. So when Ramadan finally rolls around, it feels like it's our turn. Our turn to skip school, feast with our families and celebrate. Eager to showcase our religious enthusiasm in the form of lights and colors, my sisters and I tried to decorate the house for Ramadan/Eid. Failed attempts include:
he "Ramadan tree" –which was really just a sad store bought plastic tree draped with lights and surrounded by wrapped gifts;
2- Green and white paper streamers—these lined our living room ceiling and hung on for months past Ramadan until they slowly succumbed to gravity, one by one;
3- Paper lanterns—which we had crafted in Islamic school and brought home, along with glitter glue under our nails and paper cuts on our little fingers.
One decoration tradition has survived. Christmas lights! Green twinkling lights that my siblings and I arranged to read "HAPPY RAMADAN" became the cornerstone of our yearly Ramadan decorations. The night before the first fast, my little brother and I would tiptoe downstairs, while the rest of the house was sound asleep, to hang these very special lights (the likes of which we were never able to find again, much to the consternation of every iftaar guest we hosted!). Waking my little brother up after midnight always marked for me the true arrival of Ramadan, and waiting for the sleepy excitement of our sisters and warm appreciation of our parents felt like our first Ramadan gift.
When I moved away to attend college, suhoor was simply not the same without these lights winking at me while I scarfed down cold cereal and a protein bar. Now, as I spend my last Ramadan at home before moving away again, I revel in every light bedecks our house and hope to carry this tradition to my new home.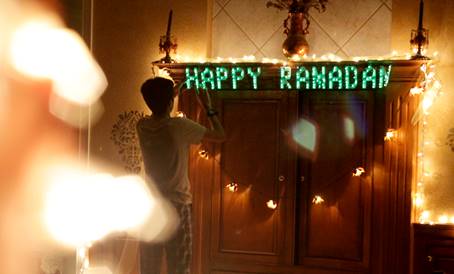 Hafsa Ahmad is a staff writer at altMuslimah