The Tumblr blog "Side Entrance" describes itself as a collection of images "from mosques around the world, showcasing women's sacred spaces, in relation to men's spaces," showing "the beautiful, the adequate and the pathetic." Sarah Farrukh talks to project founder and community activist Hind Makki about the significance of the collection and its implications for mosque reform.


  Thank you for joining us to discuss this project. To give us a bit of background, please share: What are the origins of "Side Entrance"?
Hind Makki: You can read a little more about the origins here, but briefly, last year, my friend was berated and nearly kicked out of her mosque for daring to pray in the half empty second floor of a multi-million dollar mosque, behind the male congregants during Ramadan. My friend, who is currently completing a Master's of Divinity and wants to become a hospital chaplain, had ventured into the prayer hall designated for the men because the women's area in the basement of the building was sweltering, noisy and moldy. The imam stopped the prayer to scold my friend and even went so far as to threaten to call the police on her. That specific incident spurred me to start this Tumblr, though I had been mulling over the idea of showcasing the differences between men and women's prayer spaces in mosques for a long time.
I myself have had a few terrible experiences of being barred from praying in a mosque. In fact, I was once forced to pray on the lawn of a mosque because the security guard didn't have the keys for the women's section, but refused to allow us to enter into and pray in the main [men's] prayer space. This sort of mistreatment happened only a handful of times, but because attending a mosque was such an integral part of my upbringing, these instances stand out and remain in the forefront of my mind.
Finally, before I started "Side Entrance," I posted a picture on Facebook of an egregiously small prayer space in a central city mosque and many of my male friends were shocked and dismayed that this was my experience. I realized that many Muslim men are ready to be allies, but are often unaware of how pathetic these spaces truly are. When they see it with their own eyes, they often want to do something to fix the problem.

  I can't help but notice that you don't have submission guidelines. While pictures speak a thousand words, submitters can put their own subjective spin in how they describe their spaces. Do you think this is something to be mindful of, given that women's experiences of the same space can be very different?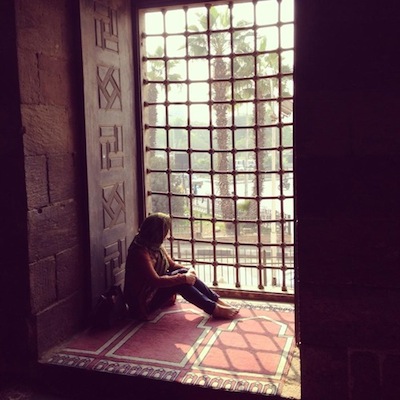 Hind Makki
: Yes, I choose to allow people to describe their mosque experiences in their photos. For example, some women like a partition and feel quite comfortable behind one – they can air that perspective on "Side Entrance." Other women might attend that same mosque and feel that the partition has to go – they can join the discussion and offer their views. The objective of the project is to get crowd-sourced photos and encourage women [and men] to share their perspectives about their mosque experiences – and try to come up with localized solutions to address the most egregious challenges.
I recently had an interesting exchange on Twitter after I posted a photo of a mosque in which the women's prayer space is darkened, per the instructions of some in the female congregation. The woman who submitted the photograph included this caption: "A few women prefer to pray in the dark so the men cannot see them. Despite having tints on our windows, the conservative voices of the mosque do not allow others to have the choice of praying with the lights turned on."
Soon after my post, a man who'd been on the board of the mosque while this decision was made responded: "I was council president during the refurbishment project, and a number of us on the council didn't want the wall to remain. Maybe it was my American since of efficiency, but I thought the wall would waste space if there were many men and few women attending, or if during some event there were many women and few men. A number of us also debated if it were an innovation. It was the voice of the women that decided it; a number of them insisted on their privacy."
I hope that by giving the people who submit their photos the agency to offer their own captions, my readers/viewers can realize the depth of the conversation. There is no "all feminists hate all partitions" versus "all traditionalists want to be separate" dichotomy. The role of women in the mosque is a complex issue, and a rich conversation can and should be had by proponents of all different views.

  Given that women can have very different preferences regarding their level of exposure to men, what do you think is the best method of mosque reform? By "egalitarian," I mean (as per the architect Maryam Eskandari's research) less reminiscent of mosques "back home" and more reflective of egalitarian values.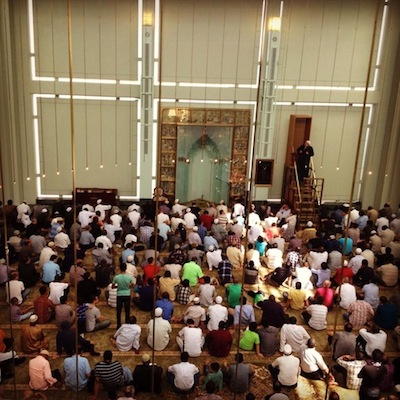 Hind Makki
: The physical spaces women occupy in a mosque are a reflection of how the mosque leadership views the value added of its community's females. When a community is expanding or building a new mosque, there
must
be women on the planning committee. Ideally, the committee would survey the entire community to identify their priorities on both religious values and physical space. The mosque board should then review the survey answers before designing a new space or re-modeling existing spaces. In fact, I would recommend that mosques survey their community members even if the mosque itself is not being built or renovated, because it is a good practice for all mosques to check in with their congregation's priorities on a regular basis.
Having said all that, local communities can and should be gently nudged along by national leaders—especially male religious authorities—to rethink women's spaces in mosques. To reimagine both the physical prayer spaces but also the spaces women occupy within mosque leadership, in external and interfaith representation, and as religious educators and authority figures within the community. ISNA's study & recommendations on women's spaces in mosques is an excellent resource for mosque leaders. ISNA's leadership has been exemplary, providing platforms in their national and regional conferences for female leaders and their male allies to dialogue on this issue.

  Some female prayer spaces with especially dismal conditions have been featured on "Side Entrance." It can't be easy to keep seeing so many ways women have been sidelined in the mosque. What, on a personal level, keeps you going with this project?
Hind Makki: Yes, some of the spaces are terrible; some mosques ban women from stepping foot in the building altogether! The stories women send me are sometimes heartbreaking. I keep going with this project for many reasons, mainly because I love mosques. I grew up going to the mosque nearly every single day. In fact, my Islamic high school was actually situated inside the local mosque. I love the purity of Islamic architecture, the light that often interplays with the glass. I believe that the whole world is a masjid, of course, but there is something sacred about entering a physical space where one can sit together with other women and men who are there for the sake of God. I am heartened each time I see a photo of mosques that believe and implement the idea that women are an integral part of their community. I am heartened each time a male ally speaks up. I want women who felt marginalized from the community because of negative mosque experiences—especially converts and young women—to know that they are not alone. I believe that by shedding light on this subject, women and men can begin to heal and rebuild our communities.
Hind Makki has worked extensively within the American Muslim community on civic engagement, interfaith dialogue and leadership development and has traveled throughout the United States and Western Europe, leading workshops on social cohesion through interfaith action and dialogue. Hind blogs at the Patheos blog Hindtrospectives.
Sarah Farrukh is an Web & Publishing Editor at Altmuslimah. She blogs about faith and books at A Muslimah Writes.