I've been trying to put my finger on what, exactly, is so appealing about Prince William, Dutchess Kate, and Prince George's royal tour Down Under.
There is the usual. Her amazing wardrobe and corresponding poise. His dapper looks. The stunning scenery of New Zealand vineyards or Australian metropolises. Baby George's chubby cheeks. Yes, all that.
But there is something else.
It's watching a young family. A family.
It's no secret than we are increasingly a rarity. Young families that is. The percent of young Americans getting married dropped by ten percent in just a decade and sits at an all-time low. Birth-rates everywhere are plunging, and the average age at which a college woman now has her first child is 30 and climbing. The majority of children born to women under 30 are born out of wedlock. Everyone talks of a delayed adolescence among millennials, one of whose favorite television shows of all time is called, of all things, Arrested Development. There are a million little data points that paint a picture of today's 20 and 30-somethings partying, shacking up, moving back home, hooking up, etcetera. I'm not breaking any news here.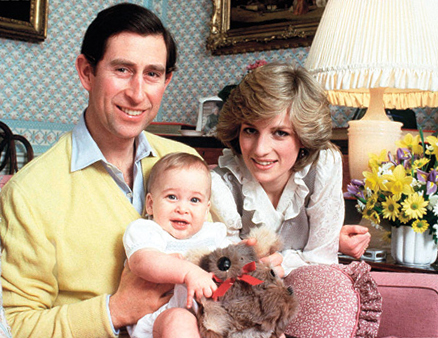 Photo Source: glamour.com/weddings
The choice to marry and have children, especially in urban areas, is increasingly a counter-cultural one. One that can feel isolating, especially when children come and catching up with friends requires a flurry of (usually unsuccessful) phone calls to sitters and an expensive babysitter tab. Whereas once people formed communities around families, now they are built around child-free entities like restaurants, yoga studios, and office complexes.
Will and Kate's tour is more than a tour of duty. It's a tour-de-family. Unlike their last trip to Canada and the United States, where the world delighted in their newlywed bliss, this time the articles are mostly about their son because let's be honest, another zillion articles about Kate's amazing wardrobe would have been trite. But watching her blossom as a beautiful mother is new and fresh. She is making motherhood looking appealing with her calm and happy demeanor, with her supportive husband by her side. Does she look oppressed and chained to a screaming child? Not so much. Does she look like a woman in her element? You bet.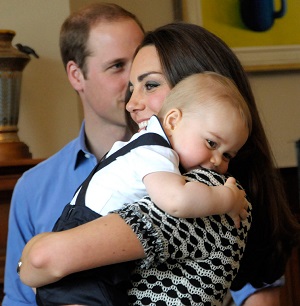 Photo Source: parade.condenast.com
In a world where families are falling apart, where choosing family life is abnormal, we need positive examples. And while it's true that Will and Kate had every opportunity offered to them, they still had to make choices. They chose to marry. They chose a religious and reverent ceremony. They chose to have a child almost right away. And they've chosen to let the world share in their happiness.
And in doing so, they give young families everywhere a little boost. We're not alone, we're not insane. We may not alight the steps of private jets in stilettos and Alexander McQueen, but behind closed doors we deal with the same struggles: nap schedules, picky eating, nursing challenges, sleepless nights.
We are equal in our struggles, but equal in our joys, because every child is a prince or princess in the eyes of God and deep down, every parent knows this. And that's why every parent is secretly delighting in seeing Will and Kate make family life look worth it in a world that says it's not.

Photo Credit: Hot Gossip Italia
Ashley McGuire is the founder and editor-in-chief of altCatholicah, a web magazine devoted to the exploration of faith and gender, AND sister site of altMuslimah. Ashley writes and speaks widely about religious freedom, Catholicism, and women. She has appeared on CNN, CNN International, CBS News, Fox News, PBS, The History Channel, HuffPo Live, ABC/Yahoo News Live, EWTN, and the BBC, and her writing has appeared in the Wall Street Journal, the Washington Post, First Things, the Claremont Review of Books, and the Huffington Post, among others. She is a frequent contributor to the Washington Post's religion blog, On Faith, and to National Review Online. She is 2011 recipient of the Phillips Foundation Robert Novak Journalism Fellowship, and the first ever Richard John Neuhaus Fellow at the Becket Fund for Religious Liberty. This post was originally published at acculturated.com.