The MODSHOP is an endeavor to provide modest, Fair Labor friendly fashion for the modern woman. The MODSHOP works with a variety of designers to provide anything from hijabs to bridal outfits to the woman seeking an answer to her modest fashion needs. Altmuslimah sat down with Sadeel Allam, the founder of the MODSHOP, to learn more about this niche business.

 : What need in the Muslim community are you seeking to address?
Sadeel Allam : There are two. First, I strongly feel we (the Muslim community) need to change our mentality when it comes to how we shop for clothing and accessories. Although there are a few companies that sell environmentally friendly and Fair Labor Muslim clothing, in comparison to all Muslim based businesses, they are like a grain in a sand dune. Second, having worked in the modest fashion industry since I reverted to Islam, one question continued to linger in the back of my mind: why are we not questioning how the clothes and accessories we wear are made when Islam itself places a great emphasis on social responsibility? These are the two concerns MODSHOP was founded upon.

 How would you distinguish yourself from other shops offering modest clothing/hijabs, etc.?
Sadeel Allam : The MODSHOP has three goals and I think these are what set us apart:
1. We're initiative-based. In other words, we aim to increase awareness of conscientious shopping by providing ethically-made clothing which meets the criteria set by the Fair Trade Federation.
2. We work with small businesses. This is important because we are encouraging family and individual owned businesses that cannot compete with larger stores by offering them a channel through which to sell their merchandise.
3. We promote the art of individuality, quality and craftsmanship. Some of the brands we work with allow semi or full customization on their clothes. This is something I am very proud of because the customer is taking ownership of her clothes. For example, our partnership with Stasia Bridal encourages brides-to-be to design their own wedding dresses.


How do you decide the parameters of what is modest and what is not?
Sadeel Allam : I use myself as an example. I strongly believe everything should start with the self. Prior to Islam, I practiced a different level of modesty. At that time, it was about being classy- a style I have always been keen on. Today my understanding of modesty is quite different. So, I use both the experiences from my non-Muslim life and now my Muslim lifestyle to set our parameters of what constitutes as modest. I think this allows us to have a moderate approach, mindful of maintaining a balance between American culture and the Islamic faith, all the while navigating the world of fashion.

 Your website focuses on being "Fair Labor" friendly. What does this mean and what does it entail?
Sadeel Allam : Fair Labor entails quite a lot of responsibility! It means that every single person who is involved in the making of a product, from the moment the seeds are planted in the soil to the moment you pick up and pay for your purchase, has been paid just wages, works in a safe environment that respects local labor laws, and receives some type of benefits. The worker should not have suffered any type of physical or psychological abuse—this includes human or child trafficking for labor.
Sadeel Allam : The MODSHOP understands that not every business within the Muslim community is up to par with 100 percent Fair Labor and environmentally safe practices, so it would be too radical to exclude them. That's where our "1st Step Initiative" comes in; it highlights the good practices businesses are making, in the hope that they graduate to better decisions. It also educates our businesses, letting them know that they have the power to change something through demand. I personally believe in gradual change. One step at a time.

 How does being 100 percent Fair Labor affect your operation cost/flexibility?
Sadeel Allam : Well, being Fair Labor is definitely going to drive wages up for workers- for example, those working at low wages in the factories producing clothing! And that's the idea. This of course means the end product might cost more. Consumers are often unaware of a staggeringly common unethical business practice happening when businesses use cheap labor: price inflation. In other words, products are made using slave-labor costs and then sold at outrageously high prices for profit. So, if a business decides to do the right thing, and become Fair Labor by paying its workers adequately, that could mean that eventually, there would be no price difference between the actual cost of making the product and the price at which it is sold.

 What are some of the biggest challenges you have faced in getting your company off the ground?
Sadeel Allam : Nudging the Muslim community to see things from a different perspective is our most formidable challenge. It's going to take time and a lot of repetition that says, "Hey, this is important, part of your faith and you are responsible for people's lives through the clothes you wear and it's up to you to do things differently!"

 : Do you also design and produce some of the clothing, or do you primarily focus on selling preexisting designers?
Sadeel Allam : No, I don't design, at least not at the moment. But it has always been a goal to produce my own line using 100 percent Fair Labor and environmentally safe practices. Through my talks with other designers, I've learned that the market I want to target isn't quite ready yet so I will have to wait a bit more.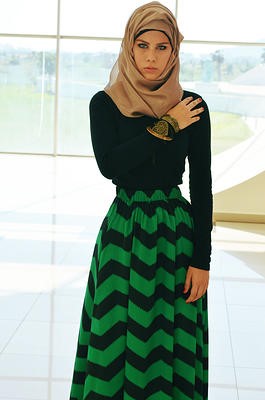 Which designers do you currently work with?
Sadeel Allam : At the moment I am working with small business designers and recognized designers, such as MAAZ and, soon to come, Modern Mary. We are very excited to have her on board!

 Your website seems to cater specifically to Muslims, although there is a wider trend of "modest fashion" beyond the Muslim community, for example in the Mormon community. Do you have any plans or interest in reaching that potential market?
Sadeel Allam : Again, I like to start at home; so the Muslim community is essential. Our bridal partnership is outside the Muslim community and caters to the Jewish, Christian and the modest bride of today. Plus, our partnerships with organizations under the Fair Trade Organization are non-Muslim. So yes, we plan to expand MODSHOP to target all varieties of communities outside of the Muslim community in the future.
Hafsa Ahmad is a graduate of Middlebury College; she is currently heading an anti-Islamophobia campaign, Equally American, with the organization Matter Of Cause, and serving as Secretary for the Muslim Women's Organization.