2016 was a historic year for Muslim women.  They not only received intense media scrutiny around the world, they also made the news – from everything as politicians and activists to Olympic-medal winning athletes and entertainers.  Here, altM covers just a few of the top new stories involving Muslim women in 2016:
Dalia Mogahed: A Role Model
Photograph:  Comedy Central
Dalia Mogahed, a former advisor to President Obama, author, researcher, and CEO of Mogahed Consulting, has quickly become one of the most prominent voices for Muslims in America.   Mogahed kicked off 2016 with a witty appearance on the Daily Show, and followed up with Ted Talk in February in which she shared her memories of 9/11 and the following days, radicalization among American Muslims, and the current state of affairs of Muslim Americans in the US.  Mogahed also addressed attendees at Muhammad Ali's Janaza (funeral) prayer and spoke of Muhammad Ali's nature of inclusivity and community.
Ted Talk Available at: www.ted.com/speakers/dalia_mogahed
Linda Sarsour: Loud, Proud and 'Unapologetically Muslim'
Photograph:  Al Jazeera
Activist Linda Sarsour had another banner year.  She spend much of 2016 working as an advocate for Bernie Sander's presidential campaign, which continuing her involvement in the Black Lives Matter movement.  Sarsour has been selected as one of the leaders of the Women's March on Washington, which will take place on January 21st, 2017 – the day after Donald Trump's inauguration.
Muslim Women Take the Olympics
Dalilah Muhammad became the first American woman to win Olympic gold in the 400-meter hurdle.  Ibtihaj Muhammed became the first Muslim woman to represent the US at the Olympics wearing a hijab.  She brought home a bronze medal for the team sabre fencing event.  Many commentators noted that the American Muslim community was more aware of and interested in Ibtihaj's events, because she was more 'visibly Muslim' due to her hijab.
Other notable Muslim women at the Olympics included:
Majlinda Kelmendi, who after turning down a fortune to represent other countries earned Kosovo its first Olympic medal. Kelmendi took home Olympic gold in judo for the 52-kg weight class.
Ines Boubakri of Tunisia, who became the first women of any African country to win an Olympic medal in women's sabre fencing. She won a bronze medal and dedicated it to all Tunisian women.
Kimia Alizadeh, who became the first Iranian woman to win any Olympic medal when she won the bronze medal in taekwondo for the 57-kg weight class.
Sara Ahmed, who won the bronze medal for weightlifting in the 69-kg weight class and thus became the first Egyptian woman to win any Olympic medal.
Stephanie Kurlow:  Hijabi Ballerina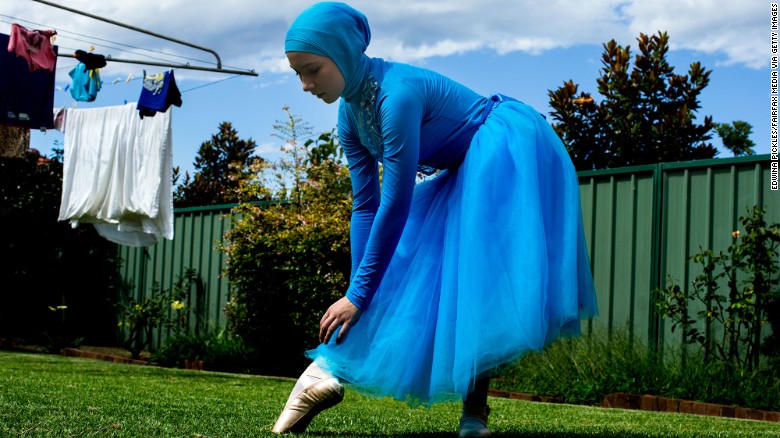 Photograph:  CNN
After facing a lack of facilitation in ballet programs for her hijab, the 14-year-old Australian ballerina started a LaunchGood fundraising campaign to become a professionally trained ballerina. Kurlow hopes to gain all the credentials required to start an academy that welcomes and accommodates aspiring performers of all backgrounds.
Rahaf Khatib, a Runner on Top
Photograph:  Credit
Rahaf Khatib of Michigan was featured on the cover of Women's Running magazine as part of their #LikeAGirl series of "20 Incredible Stories of Women Who Are Changing the Game." With this cover, Khatib became the first cover-star wearing hijab in the history of fitness and health magazines in the US.
Ilhan Omar: A Silver Lining on Election Night
Photograph:  Ilhan Omar
Ilhan Omar emerged as one of the very positive stories from Election Night.  She won her seat as a state representative in Minnesota based on a platform of unity and understanding. Omar and her family fled Somalia when Omar was only 8 years old and eventually came to Minnesota where, with her interest in business administration and politics, became a community organizer in Minneapolis. Upon her victory, Omar promised to work on promoting justice and the common good and to fight for a Minnesota that all Minnesotans could be proud of.
Amani al Khatahtbeh: Representing Muslim Girls
Photograph: Credit
Al-Khatahtbeh, the founder and editor-in-chief of MuslimGirl, released her first book, MuslimGirl: A Coming of Age, in October.  It was widely praised and well-received, with the aim of dispelling stereotypes about Muslim women and humanizing the experience of young Muslims post-9/11.
Noor Tagouri: Playboy Cover Controversy
Photograph:  Credit
Noor Tagouri, a 23-year old journalist has gained national attention as an associate journalist for CBS radio, a local news reporter for CTV news in DC, motivational speaker, and aspiring news anchor. Tagouri has a wide social media presence and aims to break stereotypes through her work. In September 2016, Tagouri was featured in Playboy Magazine as one of Playboy's Renegades of 2016 series.  The article led to divergent views with the Muslim community, with some pointing out the problems with Tagouri's appearance in Playboy, and others encouraging her for breaking barriers.
Check out AltM's take on the controversy by Samar Kaukab, and altM's EIC Asma Uddin's op-ed in the Washington Post.
Ghazala Khan: #CanYouHearMeNow?
Photograph: Credit
Ghazala Khan and her husband, Khizr Khan took the stage at the Democratic Convention in 2016, where Mr. Khan shared the story of their son, Captian Humayun Khan, who was killed in Iraq saving his comrades. During her husband's emotional speech, Ghazala Khan stood in silence. After the speech, Trump questioned her silence, hinting that Ghazala Khan stood silently because, as a Muslim woman, she was not allowed to speak. In response, Mrs. Khan wrote on op-ed for the Washington Post sharing her experience and responding handily to Trump's statements. Also in response to Trump's statements, a group of activists including Linda Sarsour got #CanYouHearMeNow? trending on social media. This hashtag was used by Muslim women all over the country showing that Muslim women do not remain silent.
Nura Afia, a CoverGirl
Photograph: Credit
Nura Afia, a Colorado native, began to record beauty videos in 2011 and has since garnered hundreds of thousands of followers on Instagram and Youtube.  She then began working with modest fashion brands, and in November she was chosen by beauty brand CoverGirl as its first hijabi brand ambassador.
Ginella Massa, News Anchor
Photograph: Credit
Ginella Massa became Canada's first major newscast anchor in 2016.   She did so after working for a number of news outlets, writing, and working behind-the-scenes for both local and national Canadian news outlets since 2010.
Aml Elsokary: Hero NYPD Officer Attacked
Photograph: Credit
Elsokary was parking her car in Brooklyn, New York, when she came back to find a man pushing and beating her son. When Elsokary approached, the man threatened to cut her throat and told her to go back to her country.  Elsokary's attacker was charged with menacing as a hate crime and second-degree aggravated assault. Mayor Bill de Blasio denounced this attack and supported Elsokary, saying that it was sick that Elsokary would be harassed for her faith.
Zaineb Abdulla: Teaching Women to Defend Against Hate
Photograph: Credit
Just hours after the results of the presidential election were announced, a number of women called Abdulla, a self-defense instructor in Chicago, to request specific techniques to protect themselves against attackers who grab their hijabs. After learning of attacks all over the country against women who wear hijab, Abdulla recruited Misho Ceko of Chicago Mixed Martial Arts to come up with and teach maneuvers against what is now known as the 'hijab grab.' These videos were posted on Facebook and quickly went viral around the world. .
Mahira Musani is a first year law student in Chicago.