Altmuslimah's Zehra Rizavi interviewed Anna Steinberg, the founder of Stasia Modest Couture, an online company with a physical location in Chicago that allows the modest bride to create a fully customized gown entirely online.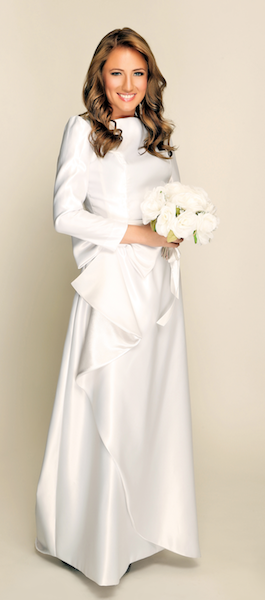 What was your initial inspiration for creating this company?
Anna Steinberg: On June 26, 2011 I married the love of my life. For the six months leading up to that special day, I was stressed. I had six months to find a gown, both beautiful and modest. In the end, I purchased a gown and then lengthened the sleeves. While the gown alterations were difficult to notice, I learned first-hand how tedious and uncertain a path this was for brides seeking modest but fashionable wedding dresses. The lack of selection in the bridal market inspired me to create a way for a bride to have not just a few designer chosen modest options, but to create her own custom design from scratch.

  What is the process or steps a bride can expect to go through when she visits Stasia Bridal?
Anna Steinberg: If you're referring to our online store, the process is a lot of fun and very personal. When a bride visits stasiabridal.com, she goes into our virtual dressing room via the "Create your gown" tab. With our custom, patent-pending design process, she can choose from 10 different sleeve styles and lengths, 10 different bodices, and 10 different skirts, as well as a variety of luxury laces, silks, satins and tulles, to create her dream gown. This gives the bride over 1000 different combinations of gowns to choose from! Once she has chosen her gown design, the bride is then prompted to take her own measurements using our tutorial as a guide. Once she types her measurements into our online form, we can begin creating her perfect dress!

 How are you able to create a custom wedding gown that will arrive at the bride's door within seven days of placing the online order?
Anna Steinberg: The muslin mock-up of the gown is what will arrive at the door within seven days of placing the order. The mock-up allows us to confirm or make adjustments to ensure correct sizing of the final gown. Plus, it allows the bride to have a basic vision of what her gown will look like on her.
The custom gown takes approximately 4-6 weeks to make once we have a bride's measurements. We can do this in such a short time frame because of our unique business structure. A bride is matched with a designer on her first visit who will create her gown beginning to end. That designer alone will work on the gown for a maximum of 240 hours. After the gown is finished, two senior designers check it for quality assurance.

 What does an in-store consultation entail?
Anna Steinberg: In an in-store consultation, a bride is welcomed to try on our modular samples including different sleeves, bodices, and skirts and select the type and color of fabrics for her dress. We then take 12 different measurements to customize the gown. Finally, the bride leaves our boutique with a personalized sketch of her wedding gown and we begin the creation process!

 Are there any limits as to how customized of a dress a bride can order? In other words, can she specify the beading, embroidery or fabric of her gown?
Anna Steinberg: There are really no limits…just the imagination. The bride can specify as little or as much as she prefers, including choosing the color and type of fabric, embroidery, beading and any other embellishments she may envision. Any customizations not included on the website can be made by giving us a quick phone call or visiting us at our boutique.

 Do you also provide bridal head scarves for brides who request them?
Anna Steinberg: Absolutely! In fact, we make custom head scarfs to match the dress color (white, ivory or champagne). If a woman would like to wear her own head scarf, we offer to dye it for her to match her gown free of charge. We can also add embellishments to the head scarf to match the intricacies of her gown or just make her wedding hijab extra special.

 Why do you think so many clothing companies—bridal and daily wear—have yet to engage with consumers interested in modest clothing?
Anna Steinberg: I think that the fashion world has come to equate beauty with bare skin or sexiness. They believe that the more skin a woman exposes, the more beautiful she is. Wedding dresses have followed this trend with plunging necklines, uncovered backs, and bare arms and shoulders. It is a reinforcing cycle that starts with the media showing skin to appeal to the masses and the public adopting this as a style norm and then responding by requesting an edgier style with more exposed skin.
However, a wedding is a spiritual day. No matter how a woman chooses to dress in her daily life, many prefer modest wedding gowns. Because of the lack of choices, women will fit themselves into the style rather than having the style fit their own sensitivities. Clothing companies see that women are willing to conform so these businesses don't feel the pressure to modify their fashion lines and engage consumers looking for a modest look.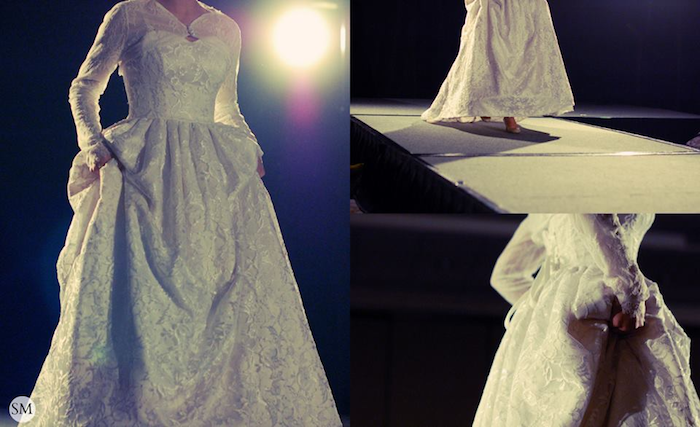 Do you find that most of your clients are seeking modest gowns for religious or personal reasons?
Anna Steinberg: Our brides come from diverse backgrounds; some are Mormon, others orthodox Jewish and others still Muslim. For many of these brides, religion is an integral part of their identity and they want to adhere to the modest guidelines their faith has set, especially on the day they walk down the aisle.
We've recently experience a burgeoning interest in modest gowns from the plus size community. These women have had trouble finding beautiful plus sized gowns off-the-rack. They appreciate that we customize gowns to flatter their curves that are just as lovely and intricate as dresses for slimmer women.
Lastly, I think that the Duchess of Cambridge, who is typically seen as a fashion icon and trend setter, increased the appeal of modest wedding gowns for all brides, even for those who don't consider themselves particularly religious.

 What has been the most requested shape or design of a gown thus far?
Anna Steinberg: We've seen a lot of interest in a princess ball gown (using tulle on satin skirt) with a fitted satin bodice and long satin sleeves with pearl buttons. International brides tend to favor this look above others.

 You designed all the different pieces of a wedding dress that brides can choose from and put together to create their customized gown. What specific designers and trends inspired you?
Anna Steinberg: My inspiration came from brides themselves. For several months, I interviewed many women about modest bridal styles that appeal most to them- neckline, silhouettes, sleeve lengths- and came up with a basic sketches of 10 skirts , 10 bodices and 10 sleeve styles that were different enough to allow every bride to create a combination that she will absolutely love.
As far as designers, I've always been fond of the classics–Chanel, Valentino, and newer designers like Ellie Saab.

 Did you design your own wedding dress and what did it look like?
Anna Steinberg: I did not as I didn't find any dressmakers who would take my vision and make it a reality the way Stasia Modest Couture can. After months of looking for a modest gown, I gave up and settled for an off-the–rack gown, altered to add long sleeves. In the end, my gown was a mermaid/trumpet style skirt with a fitted bodice and three- quarter sleeves.
Zehra Rizavi is a Managing Editor at Altmuslimah.
Photo credit (all photos): Sweet Modesty