Barjis Chohan is often considered one of the "first modest high fashion clothing designer with formal training." Having received her training at the prestigious Central St. Martins College of Art and Design in London, she runs a successful U.K based fashion label called Barjis Fashion. Chohan has showcased her work at both London and Paris Fashion Week and is about to unveil her Fall 2014 collection.
Sadeel Allam: What has been the biggest obstacles you have had to go up against in the world of high fashion?
Barjis Chohan: Frankly, the hijab. People just don't see anything beyond my hijab. I would like to be taken seriously as a business woman and a fashion designer. I have turned down high profile BBC 1 television interviews because I don't want media exposure only because I am a Muslim. I want to be recognized for the quality of my work.
Sadeel Allam: Your Spring/Summer Collection 2014 was a brilliant display of color and very dissimilar to your previous designs, which used softer, more subtle shades. Tell us about this shift.
Barjis Chohan: My theme was Rajasthan for my most recent collection. I am Rajasthani by origin, although my ancestors moved to Karachi nearly two centuries ago, so sooner or later the color and vibrancy of my heritage would come to the surface in my designs. Having said this, my clothes will always be understated. Even though my prints and colors were bold and bright, the silhouettes were still simple and clean.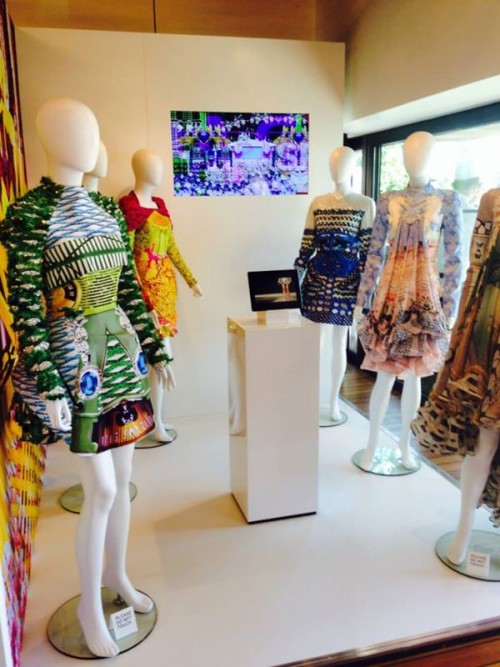 Sadeel Allam
: How important do you think it is to be a trained fashion designer? After all, Elie Saab didn't formally receive training.
Barjis Chohan: Elie Saab did not have formal training at a fashion institute, but he trained under another designer. He mastered his craft before setting up his label. What makes my blood boil is when people don't take the modest fashion industry seriously. Many Muslims think that they can simply hire a tailor, whip up a couple of designs by copying another designer's creativity and innovation and make some money! Or worse, they aspire to become YouTube celebrities by uploading videos of themselves, gaining followers and then using this newfound popularity to launch a fashion line. I am totally against the YouTube fashionista revolution. It is a short cut to self-destruction and loss of faith—if you are a modest, practicing women why would you expose yourself to millions of male fan followers? Coming back to training and receive a proper education in fashion.
Sadeel Allam: Why do you think modest fashion is gaining popularity worldwide?
Barjis Chohan: As I see it, there are two revolutions happening right now when it comes to the fashion world. The first is the revolution taking place among Western woman who after decades of looking sexy and wearing revealing clothes to attract and please men, are realizing they still feel pretty empty. They are looking internally, taking stock of their lives and how they dress. These are the non-Muslim women who are buying my clothes and in fact, this group comprises majority of my clients!
Sadeel Allam: On the flip side, you have a revolution taking place among Eastern women who have long felt pressured to cover up for their men and their communities. Many of these women, after receiving an education and being exposed to the Western world though television and the Internet, have begun to rebel against their culture and religion and want to mimic the West. For example, a Dubai boutique rejected my clothes because the designs were "too modest" for its clients who are affluent Pakistanis looking for sleeveless dresses and sexy clothes.
Barjis Chohan: It's an interesting time as I thought my clients were going to be all Muslim women but that's not the case at all! We [Muslims] need to change our mentalities or this modest industry will fall flat on its face. Finally, I want to add, modesty for me is not just about wearing the headscarf. It's about how you carry yourself, how you talk and how you live your life. This applies to both men and women, irrespective of what religion they come from. Modesty is about how much you value yourself.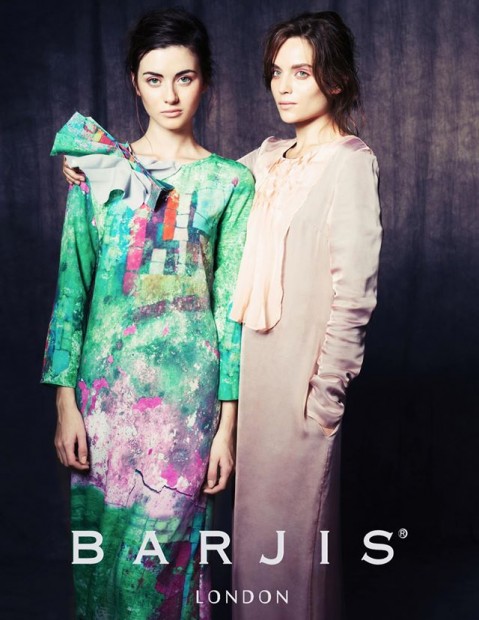 Sadeel Allam
: What is your advice for an aspiring modest fashion designer?
Barjis Chohan: To carve out a niche for yourself in high fashion. Lead, don't follow. Stop copying what others are doing and do something different. To be successful in fashion you need to understand the body, form, cut and color. Having formal training is hugely helpful otherwise you risk being a one season wannabe designer with no signature or identity.
Sadeel Allam: Tell us about your upcoming Fall 2014 collection?
Barjis Chohan: All I will tell you is that last season the Barjis woman went to Rajasthan but now she is journeying to space!
Sadeel Allam: How do you balance life as a daughter, mother, wife and fashion designer?
Barjis Chohan: I am family oriented and work always comes second for me. My life does not revolve around making money or grabbing the next opportunity. I have turned down four television and two radio interviews in the last two months either because of family commitments or because I felt I might be misrepresented. Just last year a group of investors wanted to meet me, but by the time one of them arrived at the meeting, it was time to pick up my kids from school. I politely excused myself even though this could have been a lucrative meeting—family first, always. What is written in my destiny will come to me. For me, money and status are irrelevant, even though Allah has blessed me with so much. If I lose everything today, I'll just start from scratch again.
Visit Barjis Fashion Label at barjis.co.uk. This interview was conducted by M. Sadeel Allam of Sweet Modesty.. See the video for the Autumn/Winter Collection at London Fashion Week.
This interview was conducted by M. Sadeel Allam of Sweet Modesty.
Photo Source: facebook.com/BarjisLondon